Adult walkers and Rollatros
The Bure Rise & Go is a cost-effective walker enhanced with a patented power rise function. 
Thanks to the electric power rise function, Bure Rise & Go becomes a combined stand-up, mobility and walking aid all in one single product.
TR Equipment can offer the Gate Bure Rise & Go to customers in the Americas and the UK.
Easy push-button mechanisms may be operated by fingers, palms or side of hand
Each side operates independently to allow easy movement through narrow spaces and greater stability while standing
Unique U-shaped frame design creates greater clearance
The patient is able to bring the walker closer to assist in standing because of the improved crossframe (Figure A)
Sturdy 1″ diameter, aluminum construction ensures maximum strength while remaining lightweight
The Stand Tall Walker has had a central function in healthcare even though it has lived life out of the limelight.
GATE has refined these old solutions and started again from scratch. The result is the Bure Stand Tall Walker with its unique ergonomics.
Nitro Rollator and Transport chair
Combines the features of a rollator and transport chair into one unit. The user can ambulate independently or be pushed safely by a caregiver
The tool-free two-position contoured backrest is reversible depending on whether you are using the Nitro Duet as a rollator or transport chair
Back support height easily adjusts with tool-free buttons
Caster fork design and large 10″ front casters enhances turning radius and rolling comfort
Cross-brace design allows for side-to-side folding and added stability
Brake cables routed inside the frame add safety and convenience
Luxurious super lightweight carbon fiber frame (Figure A)
Frame weighs only 12 lbs for powerful performance with swift and effortless mobility
Opulent and removable zippered storage bag Unique bag attachment keeps bag securely in place when rollator is open or folded (Figure B)
Brake cable inside frame for added safety (Figure C)
Handle height easily adjusts with unique push button
Caster fork design enhances turning radius
Large 10″ front casters allow optimal steering and rolling comfort (Figure D)
Easily fold with one hand to ultra-compact size for storage Handle is located on seat (Figure E)
Cross-brace design allows for side-to-side folding and added stability
Seat is durable and comfortable
EZ clip cane holder included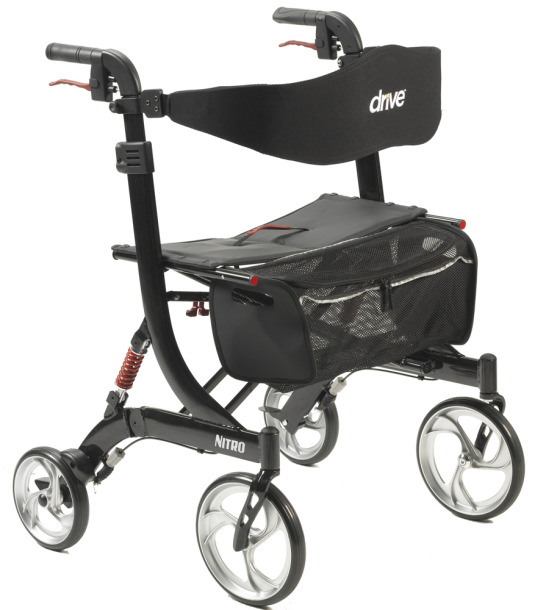 Attractive, Euro-style design
Brake cable inside frame for added safety (A)
Handle height easily adjusts with unique push button
Unique suspension system for support and comfort (B)
Back support height easily adjusts with tool-free thumb screw
Caster fork design enhances turning radius (C)
Large 10″ front casters allow optimal steering and rolling comfort (C)
Easily folds with one hand to ultra-compact size for storage (D)
Under seat locking mechanism holds the Nitro closed when frame is folded (E)
Cross-brace design allows for side-to-side folding and added stability
Seat is durable and comfortable (F)
Handsome and removable zippered storage bag with unique attachment to keep bag securely in place when Nitro is open or folded
Lightweight, aluminum frame
8″ casters with soft-grip tires are ideal for indoor and outdoor use
Soft padded oversized seat
Comes with large 20.5″ (W) x 4.5″ (H) x 9″ (D) basket that can be mounted under seat
Tool-free removable padded backrest for comfort
Special loop lock made of internal aluminum casting operates easily and ensures safety (Figure A)
Handles easily adjustable in height with self-threading knob (Figure B)